Quality Award 2016 - 18th November 2016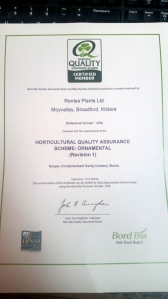 Hi everyone,
I'm happy to announce that we passed our Bord Bia Quality Mark audit, with our best ever score of 100% compliance!
This audit covers everything from traceability, chemical usage, safety, water sustainability, etc. It's a massive list, and takes some work to make sure you meet all the points.
Just part of our effort to make sure we offer the best in product and service to you guys.
Roy.