Prep for the Next Season - 21st October 2016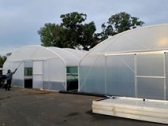 Hi everyone,
It's that time of year where we start to clean up from a busy year gone by, and prep for the next.
We're putting the finishing touches to some new tunnels,
our Big Tree Lines got cleaned up, making room for the mass of stunning Italian gear we're expecting very shortly and a load of our tunnels got resurfaced. We went through 207 tonnes of Gravel!