New Truck - 10th February 2016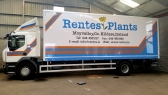 We have a new truck!
In anticipation of a busy Spring, we have retired our old 03 DAF and have a shiny new Renault at your service. This will help us to maintain the nice reliable delivery service you are used to and expect!